DONALD WYMAN CRABAPPLE


MALUS DONALD WYMAN
Malus x 'Donald Wyman'
photo courtesy of J. Frank Schmidt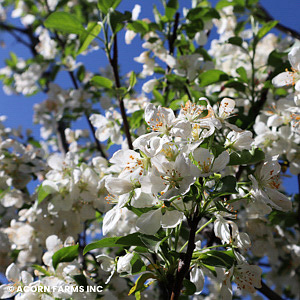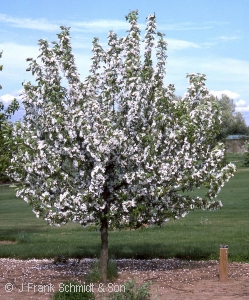 Genus: MALUS


Protected Series:
Height: 20 Feet Tall
Spread: 25-35 Feet Wide


MALUS DONALD WYMAN
Grower Notes:
The Donald Wyman Crabapple is a large, spreading deciduous tree that can reach 20-25 feet tall and wide. It is noteworthy for its disease resistance, clear green foliage and pink buds that open to fragrant, single, white blooms in mid spring. It is a sight to see! Bright, cherry red fruit follow the blooms in fall and persist into winter. Its green foliage turns a golden yellow in fall.

The Donald Wyman Crabapple enjoys full sun and moist, well-drained soils. Drought tolerant once established.
AVAILABLE
SIZE
TYPE
YARD
HEELIN
FIELD
MALUS DONALD WYMAN
2 in
1
0
0
MALUS DONALD WYMAN

*SALE*
2 in
B GRADE
0
1
0
Any current Availability will be listed above this line. This item will not be in the cart if there is no above-ground stock listed here. Click for Availability Key-Info.
Search by current size and/or type

KEY:
CON = containers - available now
YARD trees/shrubs above-ground - available now
FIELD trees/shrubs NOT colored orange - available now

FIELD TREES AND FIELD SHRUBS that are colored ORANGE need to be dug unless it is a BBnPOT. Call us to place a dig order

(BBnPOT - formerly known as GRSTART - are B&B put into a container - they are available now)


Edible Apples