EMERALD SUNSHINE® HYBRID ELM


ULMUS MIC EMERALD SUNSHINE
Ulmus propinqua 'JFS-Bieberich' Emerald Sunshine® Elm
photo courtesy of J. Frank Schmidt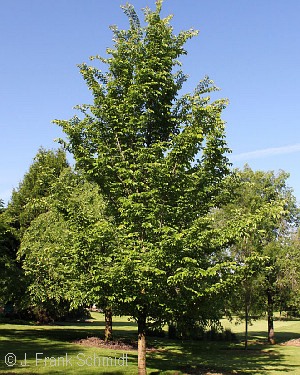 Genus: ULMUS


Protected Series:
Height: 30 Feet Tall
Spread: 25-35 Feet Wide


ULMUS MIC EMERALD SUNSHINE
Grower Notes:
Emerald Sunshine® Elm is a sturdy, upright-growing Elm with superior performance in hot, dry climates. Deeply corrugated leaves emerge coppery-bronze and mature to glossy green. Insect resistant and tolerant of heat and drought. A fast-growing, tough and adaptable shade tree that is resistant to elm leaf beetle, Japanese beetle, and tolerant of Dutch elm disease and Phloem Necrosis. Fall color is rich yellow, sometimes with purple tints on the tips and along the margins.
AVAILABLE
SIZE
TYPE
YARD
HEELIN
FIELD
ULMUS MIC EMERALD SUNSHINE

*SALE*
4 in
0
1
0
Any current Availability will be listed above this line. This item will not be in the cart if there is no above-ground stock listed here. Click for Availability Key-Info.
Search by current size and/or type

KEY:
CON = containers - available now
YARD trees/shrubs above-ground - available now
FIELD trees/shrubs NOT colored orange - available now

FIELD TREES AND FIELD SHRUBS that are colored ORANGE need to be dug unless it is a BBnPOT. Call us to place a dig order

(BBnPOT - formerly known as GRSTART - are B&B put into a container - they are available now)


Ulmus (Elm) Types:
American
|
Chinese
|
Smoothleaf
|
Hybrid