MR BOWLING BALL® ARBORVITAE


THUJA OCC MR BOWLING BALL
Thuja occidentalis 'Mr. Bowling Ball' ('Bobozam')
photo copyright Acorn Farms Inc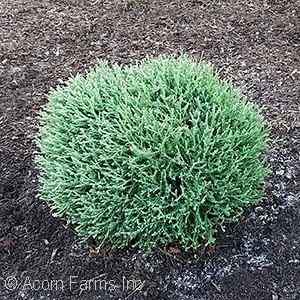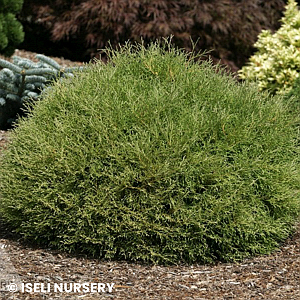 Genus: THUJA


Protected Series:
Height: 2-3 Feet Tall
Spread: 2-3 Feet Wide


THUJA OCC MR BOWLING BALL
Grower Notes:
Thuja occidentalis Mr. Bowling Ball® is commonly referred to as Mr. Bowling Ball® American Arborvitae. It is a dwarf, evergreen shrub with a compact, globe-shaped habit. It features attractive sage-green sprays of lacy, thread-like, feathery foliage that is soft to the touch. Its foliage resembles a Chamaecyparis.

Mr. Bowling Ball® Arborvitae thrives in full or partial sun in rich, evenly moist, well-drained soils. It appreciates some afternoon sun on very hot summer days. Protection from drying winds is most beneficial. It is an ideal alternative for the Hetz Midget Arborvitae.
AVAILABLE
SIZE
TYPE
YARD
HEELIN
FIELD
THUJA OCC MR BOWLING BALL
con 3
15-18 in
177
0
0
THUJA OCC MR BOWLING BALL
con 3
12-15 in
196
0
1095
Any current Availability will be listed above this line. This item will not be in the cart if there is no above-ground stock listed here. Click for Availability Key-Info.
Search by current size and/or type

KEY:
CON = containers - available now
YARD trees/shrubs above-ground - available now
FIELD trees/shrubs NOT colored orange - available now

FIELD TREES AND FIELD SHRUBS that are colored ORANGE need to be dug unless it is a BBnPOT. Call us to place a dig order

(BBnPOT - formerly known as GRSTART - are B&B put into a container - they are available now)


Other Northern White Cedars