LITTLE SUZY BLACKEYED SUSAN


RUDBECKIA VIETTES LITTLE SUZY
Rudbeckia fulgida var. speciosa 'Blovi' VIETTE'S LITTL
photo copyright Acorn Farms Inc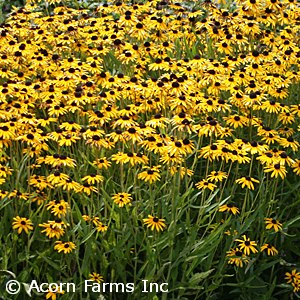 Genus: RUDBECKIA


Protected Series:
Height: 12-15 Inches Tall
Spread: 12-18 Inches Wide


RUDBECKIA VIETTES LITTLE SUZY
Grower Notes:
Showy medium yellow flowers on a dwarf, compact plant. Foliage turns to mahogany in the fall.

Rudbeckia fulgida is a very hardy native perennial. The flowers of all Rudbeckia fulgida cultivars are usually smaller than the Rudbeckia hirta, however, it more than makes up for it by the quantity of flowers it produces in a growing season. It begins flowering in July and continues all summer. It has a more mounded habit than the hirta varieties as they are more upright. All Black-eyed Susans are a perfect attractant for pollinators and beneficial insects.
AVAILABLE
SIZE
TYPE
GALENA
IN-GROUND
RUDBECKIA VIETTES LITTLE SUZY
con 1
250
0
Any current Availability will be listed above this line. This item will not be in the cart if there is no above-ground stock listed here. Click for Availability Key-Info.
Search by current size and/or type

KEY:
con = containers - available now
Galena are available now
In-Ground are still in the ground and require a Dig Order. Please call your sales rep.

Product highlighted orange need to be dug. Call us to place a dig order

(BBnPOT - formerly known as GRSTART - are B&B put into a container - they are available now)