FIRST EDITIONS® AMBER JUBILEE™ NINEBARK


PHYSOCARPUS AMBER JUBILEE
Physocarpus opulifolius 'Jefam' PP23177 First Editions® Amber Jubilee™
photo courtesy of First Editions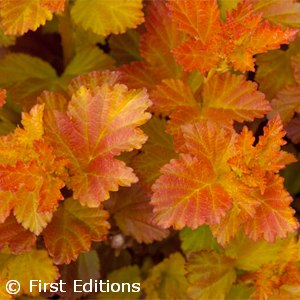 Genus: PHYSOCARPUS


Protected Series: FIRST EDITIONS
Height: 5-6 Feet Tall
Spread: 4 Feet Wide


PHYSOCARPUS AMBER JUBILEE
Grower Notes:
First Editions® 'Jefam', trademarked under the name 'Amber Jubilee' is the result of a cross between P. opulifolius 'Monlo' and P. opulifolius 'Dart's Gold'. Its foliage is tones of orange, yellow and gold. It has delicate white blooms in spring and red and purple foliage in fall. Amber Jubilee is not only noteworthy for its colors, but also for NOT having as many suckers as other varieties. A favorite for butterflies! Ninebark is named for its exfoliating bark on mature branches which peels away revealing reddish brown inner bark.
AVAILABLE
SIZE
TYPE
GALENA
IN-GROUND
PHYSOCARPUS AMBER JUBILEE
con 10
STD
1
0
PHYSOCARPUS AMBER JUBILEE
con 3
15-18 in
390
0
PHYSOCARPUS AMBER JUBILEE
con 5
24-30 in
232
0
Any current Availability will be listed above this line. This item will not be in the cart if there is no above-ground stock listed here. Click for Availability Key-Info.
Search by current size and/or type

KEY:
con = containers - available now
Galena are available now
In-Ground are still in the ground and require a Dig Order. Please call your sales rep.

Product highlighted orange need to be dug. Call us to place a dig order

(BBnPOT - formerly known as GRSTART - are B&B put into a container - they are available now)