YELLOW BIRD CUCUMBER MAGNOLIA


MAGNOLIA ACU YELLOW BIRD
Magnolia acuminata 'Yellow Bird'
photo copyright Acorn Farms Inc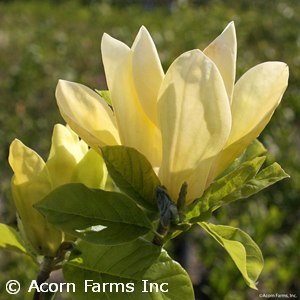 Genus: MAGNOLIA


Protected Series:
Height: 30-40 Feet Tall
Spread: 25-35 Feet Wide


MAGNOLIA ACU YELLOW BIRD
Grower Notes:
The Yellow Bird Cucumber Magnolia is a high profile specimen or accent tree. It is an upright, pyramidal, deciduous tree with jaw-dropping, 3 inch, canary yellow flowers in late spring as new leaves emerge. Blooms last for up to three weeks.

The Yellow Bird is a tall magnolia that can reach heights of 40 feet with a spread of 20-30 feet. It enjoys full sun to part shade and grows best in consistently moist, slightly acidic, well-drained soils. This is a showy ornamental that should be the center of attention in the garden.