JOLENE JOLENE™ BEAUTY BUSH


KOLKWITZIA AMA JOLENE JOLENE
Kolkwitzia amabilis 'SMNKADTF' PPAF, CBRAF
photo courtesy of Proven Winners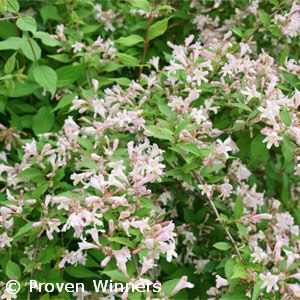 Genus: KOLKWITZIA


Protected Series:
Height: 4-5 Feet Tall
Spread: 4-5 Feet Wide


KOLKWITZIA AMA JOLENE JOLENE
Grower Notes:
Kolkwitzia amabilis 'Jolene Jolene' is commonly referred to as Jolene Jolene Beauty Bush. It is an outstanding and quite showy Beauty Bush and only half the size of other Beauty Bush. It is a highly adaptable shrub that features a multitude of star-shaped pink blooms with yellow throats starting in early summer.

Jolene Jolene Beauty Bush is a tough, easy to grow Proven Winners® selection that is ideal as a foundation plant, hedge or specimen plant. It even grows well under trees. It thrives in full to part sun in average, well-drained soil. It blooms on old wood so pruning after flowering is desired.
AVAILABLE
SIZE
TYPE
GALENA
IN-GROUND
KOLKWITZIA AMA JOLENE JOLENE
con 3
PWINNER
121
0
Any current Availability will be listed above this line. This item will not be in the cart if there is no above-ground stock listed here. Click for Availability Key-Info.
Search by current size and/or type

KEY:
con = containers - available now
Galena are available now
In-Ground are still in the ground and require a Dig Order. Please call your sales rep.

Product highlighted orange need to be dug. Call us to place a dig order

(BBnPOT - formerly known as GRSTART - are B&B put into a container - they are available now)