TARDIVA PANICLE HYDRANGEA


HYDRANGEA PAN TARDIVA
Hydrangea paniculata 'Tardiva'
photo copyright Acorn Farms Inc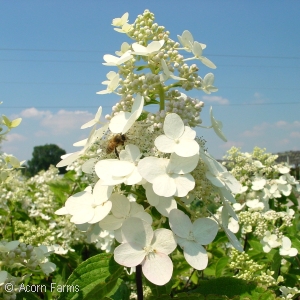 Genus: HYDRANGEA


Protected Series:
Height: 6-7 Feet Tall
Spread: 8-10 Feet Wide


HYDRANGEA PAN TARDIVA
Grower Notes:
Hydrangea paniculata 'Tardiva' is commonly referred to as Tardiva Panicle Hydrangea. This vigorous, fast-grower is an early to late fall flowering cultivar with sharply pointed white flowers that turn pinkish-purple as it matures. It is a very heavy bloomer and one of the most cold-hardy cultivars.

Tardiva Hydrangea thrives in filtered light in rich, organic, evenly moist, well-drained soils. Panicle Hydrangeas, such as the Tardiva Hydrangea, bloom on new growth, typically flowering normally even if cut back or killed by frost the previous season. This dependable bloomer is very hardy and ideal for borders, mass plantings or as a specimen or accent plant.