COLOR CHOICE® QUICK FIRE® PANICLE HYDRANGEA


HYDRANGEA PAN QUICK FIRE
Hydrangea paniculata 'Bulk' PP16812 Proven Winners® Color Choice® Quick Fire®
photo copyright Acorn Farms Inc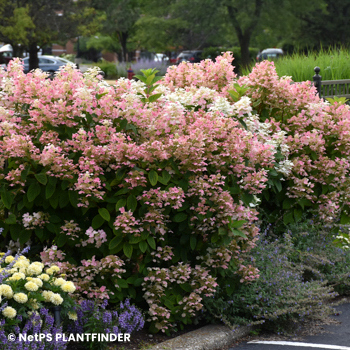 Genus: HYDRANGEA


Protected Series:
Height: 6-8 Feet Tall
Spread: 6-8 Feet Wide


HYDRANGEA PAN QUICK FIRE
Grower Notes:
Hydrangea paniculata 'Bulk' PP16812 is commonly referred to as Quick Fire® Panicle Hydrangea. This Proven Winners® Color Choice® selection blooms about a month before other hardy paniculata hydrangeas. It features flowers that open white then turn pink as the growing season progresses, turning dark rose pink in fall. Foliage is bright green turning gold and burgundy in fall.

Panicle Hydrangeas, such as the Quick Fire® Hydrangea, bloom on new growth, typically flowering normally even if cut back or killed by frost the previous season. It thrives in filtered sun in rich, organic, evenly moist, well-drained soils. This dependable bloomer is very hardy and ideal for borders, mass plantings or as a specimen/accent plant.