COLOR CHOICE® LITTLE QUICK FIRE® HYDRANGEA


HYDRANGEA PAN LITTLE QUICKFIRE
Hydrangea paniculata 'SMHPLQF' PP25136 Proven Winners® Color Choice® Little Quickfire®
photo copyright Acorn Farms Inc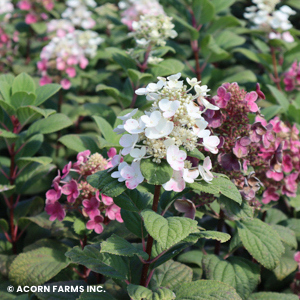 Genus: HYDRANGEA


Protected Series: COLOR CHOICE
Height: 3-5 Feet Tall
Spread: 3-5 Feet Wide


HYDRANGEA PAN LITTLE QUICKFIRE
Grower Notes:
Hydrangea paniculata 'SMHPLQF' is commonly referred to as Little Quick Fire® Panicle Hydrangea. This Proven Winners® Color Choice® selection is a dwarf form of the popular Quick Fire® hydrangea reaching only 3-5' tall and wide. Like the Quick Fire®, it begins flowering early, about a month earlier than other varieties. White conical flowers with pink overtones at the ends of the branches turn all pink as the season progresses.

Little Quick Fire® Hydrangea thrives in rich, organic, evenly moist, well-drained soils. It is best pruned in late winter once the threat of extreme cold has passed. It is ideal as an accent plant or for mass plantings. It looks fantastic in containers!