LIMELIGHT PANICLE HYDRANGEA


HYDRANGEA PAN LIMELIGHT
Hydrangea paniculata 'Limelight' PP12874
photo copyright Acorn Farms Inc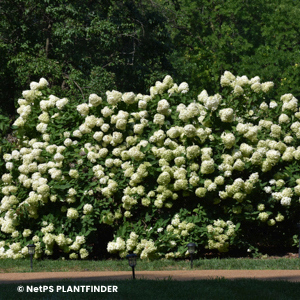 Genus: HYDRANGEA


Protected Series:
Height: 8-10 Feet Tall
Spread: 6-7 Feet Wide


HYDRANGEA PAN LIMELIGHT
Grower Notes:
Hydrangea paniculata 'Limelight' PP12874 is commonly referred to as Limelight® Panicle Hydrangea. This amazing Proven Winners® Color Choice® selection revolutionized landscaping across North America with its large 10-12" lime-green flower panicles from midsummer to frost that are held upright on strong, sturdy stems. Flowers fade to a beautiful pink and red color and are perfect for cutting.

Panicle Hydrangeas, such as everyone's favorite, the Limelight®, bloom on new growth, typically flowering normally even if cut back or killed by frost the previous season. It thrives in filtered sun in rich, organic, evenly moist, well-drained soils. This time-tested classic is ideal for shrub borders, accent and specimen plantings.