SUMMER CRUSH BIGLEAF HYDRANGEA


HYDRANGEA MAC SUMMER CRUSH
Hydrangea macrophylla 'Bailmacfive' PP30359 Endless Summer® Summer Crush®
photo courtesy of Bailey Nursery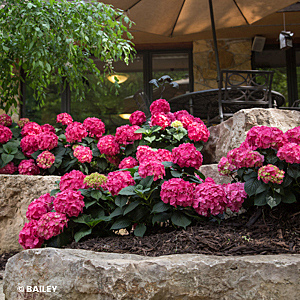 Genus: HYDRANGEA


Protected Series: ENDLESS SUMMER
Height: 2-3 Feet Tall
Spread: 2-3 Feet Wide


HYDRANGEA MAC SUMMER CRUSH
Grower Notes:
Hydrangea macrophylla 'Bailmacfive' PP30359 is commonly referred to as Summer Crush® Bigleaf Hydrangea. It is part of the Endless Summer® series of hydrangeas that can bloom on the current year's growth as well as new growth (both new and old wood). This compact, wilt-proof variety features a profusion of midsummer raspberry red or bright purple blooms, depending on soil pH. Bright red flowers occur in more alkaline soils while bright purple flowers occur in more acidic soils. The addition of aluminum sulfate to the soil will encourage more vivid blues and adding lime will produce more red color.

Summer Crush® Hydrangea is especially heat tolerant and can handle conditions from Zone 4 to 9! It thrives in filtered sun in rich, organic, evenly moist, well-drained soils.