FIJI™ ROSE OF SHARON


HIBISCUS SYR FIJI
Hibiscus syriacus 'Minspot' First Editions® Fiji#8482
photo courtesy of First Editions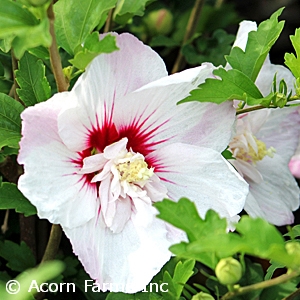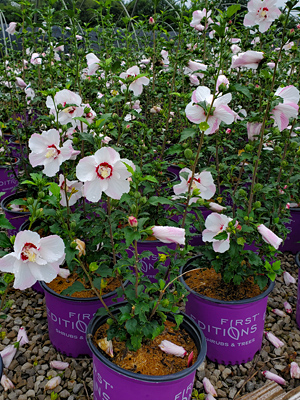 Genus: HIBISCUS


Protected Series: FIRST EDITIONS
Height: 5-8 Feet Tall
Spread: 4-7 Feet Tall


HIBISCUS SYR FIJI
Grower Notes:
Hibiscus syriacus 'Minspot' is commonly referred to as First Editions® Fiji™ Rose of Sharon. It is a First Editions® selection that features emerging pink buds that open to semi-double, trumpet-shaped, pink flowers with deep red centers that slowly fade to light pink from midsummer to fall. Fuji™ Rose of Sharon has an upright, vase-shaped habit and is a great addition to small garden spaces as it only matures to 5-8 feet tall with a spread of 4-7 feet.

Fuji™ thrives in full to part sun in rich, fertile, evenly moist, well-drained soils. It is ideal as a specimen, a hedge or planted in groups. A nice bonus of Hibiscus syriacus cultivars is the ability to manipulate them into a tree shape for a more formal architectural feature.
AVAILABLE
SIZE
TYPE
GALENA
IN-GROUND
HIBISCUS SYR FIJI
con 2
15
0
HIBISCUS SYR FIJI
con 3
15-18 in
324
0
HIBISCUS SYR FIJI
con 5
18-24 in
51
0
Any current Availability will be listed above this line. This item will not be in the cart if there is no above-ground stock listed here. Click for Availability Key-Info.
Search by current size and/or type

KEY:
con = containers - available now
Galena are available now
In-Ground are still in the ground and require a Dig Order. Please call your sales rep.

Product highlighted orange need to be dug. Call us to place a dig order

(BBnPOT - formerly known as GRSTART - are B&B put into a container - they are available now)


Perennial Hibiscus Flipbook