SUMMERIFIC® FRENCH VANILLA ROSE MALLOW


HIBISCUS FRENCH VANILLA
SUMMERIFIC® French Vanilla PP33181
photo courtesy of Walters Gardens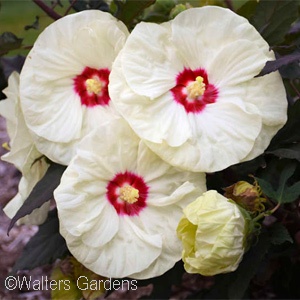 Genus: HIBISCUS


Protected Series: SUMMERIFIC
Height: 3-4 Feet Tall
Spread: 3 Feet Wide


HIBISCUS FRENCH VANILLA
Grower Notes:
Hibiscus Summerific® French Vanilla PP33181 is commonly referred to as French Vanilla Rose Mallow. It is a Proven Winners® Summerific® selection and features soft yellow flowers buds that open to creamy custard yellow, ruffled flowers with a prominent red eye. Flowers retain their yellow color longer that other cultivars and are more yellow in cool climates and bright white in hot climates. It contrasts beautifully with its purple-black foliage.

French Vanilla Rose Mallow is easy to grow and requires little maintenance. It enjoys full sun in fertile, evenly moist, well-drained soils.
AVAILABLE
SIZE
TYPE
GALENA
IN-GROUND
HIBISCUS FRENCH VANILLA
#2
PWINNER
71
0
Any current Availability will be listed above this line. This item will not be in the cart if there is no above-ground stock listed here. Click for Availability Key-Info.
Search by current size and/or type

KEY:
con = containers - available now
Galena are available now
In-Ground are still in the ground and require a Dig Order. Please call your sales rep.

Product highlighted orange need to be dug. Call us to place a dig order

(BBnPOT - formerly known as GRSTART - are B&B put into a container - they are available now)


Perennial Hibiscus Flipbook