SUMMERIFIC® EVENING ROSE ROSE MALLOW


HIBISCUS EVENING ROSE
Hibiscus 'Evening Rose' PPAF CPBRAF
photo copyright Acorn Farms Inc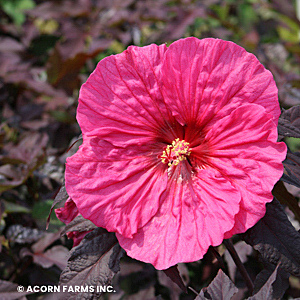 Genus: HIBISCUS


Protected Series: SUMMERIFIC
Height: 3-4 Feet Tall
Spread: 4-5 Feet Wide


HIBISCUS EVENING ROSE
Grower Notes:
Hibiscus 'Evening Rose' PPAF is commonly referred to as Summerific® Evening Rose Rose Mallow. Truly a focal point in any garden with its showy combination of puckered, hot pink flowers and nearly black maple-like, leathery leaves. Compared to Hibiscus 'Berry Awesome', the foliage is much darker and the 8 inch flowers more magenta than lavender. It has an upright, mounding habit and is deer resistant and brings in the pollinators.

Summerific® Evening Rose Hibiscus is a Proven Winners® selection that enjoys full sun in average, evenly moist, well-drained soils.
AVAILABLE
SIZE
TYPE
GALENA
IN-GROUND
HIBISCUS EVENING ROSE
con 2
PWINNER
116
0
Any current Availability will be listed above this line. This item will not be in the cart if there is no above-ground stock listed here. Click for Availability Key-Info.
Search by current size and/or type

KEY:
con = containers - available now
Galena are available now
In-Ground are still in the ground and require a Dig Order. Please call your sales rep.

Product highlighted orange need to be dug. Call us to place a dig order

(BBnPOT - formerly known as GRSTART - are B&B put into a container - they are available now)


Perennial Hibiscus Flipbook