PALACE PURPLE CORAL BELLS


HEUCHERA PALACE PURPLE
Heuchera micrantha 'Palace Purple'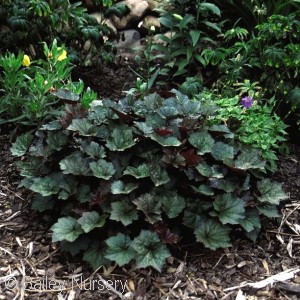 Genus: HEUCHERA


Protected Series:
Height: 18-24 Inches Tall
Spread: 18-24 Inches Wide


HEUCHERA PALACE PURPLE
Grower Notes:
Leaves are large and shiny compared to other varieties. Has mahogany-red foliage and tiny cream-colored flowers.

Coral bells are a great low-maintenance perennial and are easy to take care of. They blend well with most perennials and have a low, mounding habit that is perfect for container gardens and tucked between other plants in a shaded garden.

Coral bells prefer partial shade and well-drained, moist rich soil. They do not tolerate clay or acidic soils. You can cut back their flower stalks in fall to direct energy into their foliage.
AVAILABLE
SIZE
TYPE
YARD
HEELIN
FIELD
HEUCHERA PALACE PURPLE
con 1
77
0
428
Any current Availability will be listed above this line. This item will not be in the cart if there is no above-ground stock listed here. Click for Availability Key-Info.
Search by current size and/or type

KEY:
CON = containers - available now
YARD trees/shrubs above-ground - available now
FIELD trees/shrubs NOT colored orange - available now

FIELD TREES AND FIELD SHRUBS that are colored ORANGE need to be dug unless it is a BBnPOT. Call us to place a dig order

(BBnPOT - formerly known as GRSTART - are B&B put into a container - they are available now)


Heuchera Reference Catalog