TIANSHAN SEVEN-SON FLOWER


HEPTACODIUM MIC TIANSHAN
Heptacodium miconioides 'Tianshan' First Editions® Tianshan®
photo courtesy of Bailey Nursery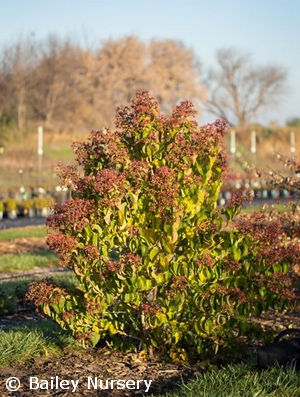 Genus: HEPTACODIUM


Protected Series:
Height: 10 Feet Tall
Spread: 6 Feet Wide


HEPTACODIUM MIC TIANSHAN
Grower Notes:
Heptacodium miconioides 'Minhep' is commonly referred to as Tianshan® Seven-Son Flower. It is a small, rounded, upright shrub with dark green leaves and clusters of creamy white flowers in late summer which attract butterflies, bees and other beneficial pollinators. Flowers are followed by unusual purple-red fruit. It has attractive yellow fall color and exfoliating bark in winter.

Tianshan® Seven-Son Flower is deer resistant, easy to grow, and thrives in full sun to part shade in average, evenly moist, well-drained soils. This fast grower is ideal as a specimen plant or an informal hedge.
AVAILABLE
SIZE
TYPE
GALENA
IN-GROUND
HEPTACODIUM MIC TIANSHAN
#5
24-30"
179
0
HEPTACODIUM MIC TIANSHAN
#7
36" MS
10
0
Any current Availability will be listed above this line. This item will not be in the cart if there is no above-ground stock listed here. Click for Availability Key-Info.
Search by current size and/or type

KEY:
con = containers - available now
Galena are available now
In-Ground are still in the ground and require a Dig Order. Please call your sales rep.

Product highlighted orange need to be dug. Call us to place a dig order

(BBnPOT - formerly known as GRSTART - are B&B put into a container - they are available now)