FASTIGIATE EUROPEAN BEECH


FAGUS SYL FASTIGIATA
Fagus sylvatica 'Fastigiata'
photo copyright Acorn Farms Inc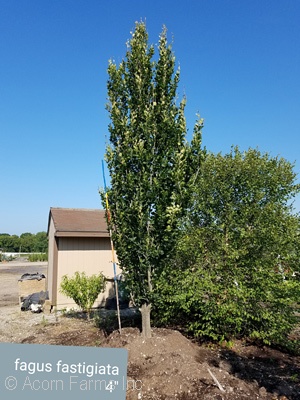 Genus: FAGUS


Protected Series:
Height: 50 Feet Tall
Spread: 50 Feet Wide


FAGUS SYL FASTIGIATA
Grower Notes:
The Fagus sylvatica 'Fastigiata' is commonly known as the Upright European Beech. This upright selection has a distinctive, extremely narrow, columnar habit that can be confused with Fagus sylvatica 'Dawyckii'. The Fastigiata has glossy, dark green foliage that emerges light green and matures copper-bronze in fall. Its smooth, silver-gray bark adds an attractive winter interest while the beechnuts that fall in autumn provide ample food for wildlife during winter.

The Fastigiata Beech thrives in full to part sun in evenly moist, slightly acidic, well-drained soils. It does not tolerate standing water or wet sites.
AVAILABLE
SIZE
TYPE
YARD
HEELIN
FIELD
FAGUS SYL FASTIGIATA

*SALE*
1.5 in
BBnPOT
28
0
0
Any current Availability will be listed above this line. This item will not be in the cart if there is no above-ground stock listed here. Click for Availability Key-Info.
Search by current size and/or type

KEY:
CON = containers - available now
YARD trees/shrubs above-ground - available now
FIELD trees/shrubs NOT colored orange - available now

FIELD TREES AND FIELD SHRUBS that are colored ORANGE need to be dug unless it is a BBnPOT. Call us to place a dig order

(BBnPOT - formerly known as GRSTART - are B&B put into a container - they are available now)


Fagus (Beech) Types:
American Beech
European Beech
Fountain Beech
Purple Beech
Tricolor Beech
Weeping Beech