MALE FERN


DRYOPTERIS FILIX-MAS
Dryopteris filix-mas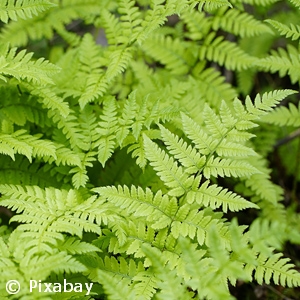 Genus: DRYOPTERIS


Protected Series:
Height: 30-36 Inches Tall
Spread: 24-30 Inches Wide


DRYOPTERIS FILIX-MAS
Grower Notes:
Dryopteris filix mas is commonly referred to as Basket Fern, Shield Fern or Common Male Fern. Its specific epithet filix-mas means Male Fern (filix "fern", mas "male"). The female version is Athyrium filix-femina (Common Lady Fern). This selection is a vigorous, large, arching, deciduous fern with clump-forming, stout rhizomes supporting lance-shaped, green fronds that turn bronze in fall. This is a robust fern that can thrive in difficult areas and is rabbit resistant.

Parsley Male Fern is easy to grow and maintain. It thrives in low light - full to partial shade in rich, fertile, evenly moist to damp soils. Soil should not be allowed to dry out. Ideal for beds, borders, hedge-banks, rocks, and underplanting of shrubs and woodland areas.
AVAILABLE
SIZE
TYPE
GALENA
IN-GROUND
DRYOPTERIS FILIX-MAS
TRADE 1
279
0
Any current Availability will be listed above this line. This item will not be in the cart if there is no above-ground stock listed here. Click for Availability Key-Info.
Search by current size and/or type

KEY:
con = containers - available now
Galena are available now
In-Ground are still in the ground and require a Dig Order. Please call your sales rep.

Product highlighted orange need to be dug. Call us to place a dig order

(BBnPOT - formerly known as GRSTART - are B&B put into a container - they are available now)


Fern Reference Catalog
Other Ferns