WHETMAN® STAR SINGLE® EASTERN STAR PINKS


DIANTHUS EASTERN STAR
Dianthus Whetman® STAR SINGLE® 'Eastern Star'
photo copyright Acorn Farms Inc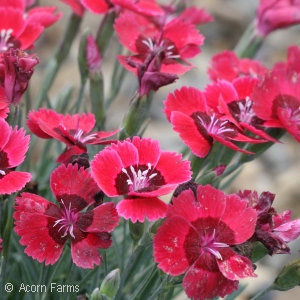 Genus: DIANTHUS


Protected Series: STAR SINGLE
Height: 6-9 Inches Tall
Spread: 6-12 Inches Wide


DIANTHUS EASTERN STAR
Grower Notes:
Large, velvety red flowers have dark red centers. Blue-green foliage has a spicy fragrance. Part of the STAR SINGLE® series.

Bred by Whetman® Pinks, the UK's leading breeder and propagator of award-winning perfumed Dianthus. Known for their excellent Dianthus breeding.
AVAILABLE
SIZE
TYPE
GALENA
IN-GROUND
Any current Availability will be listed above this line. This item will not be in the cart if there is no above-ground stock listed here. Click for Availability Key-Info.
Search by current size and/or type

KEY:
con = containers - available now
Galena are available now
In-Ground are still in the ground and require a Dig Order. Please call your sales rep.

Product highlighted orange need to be dug. Call us to place a dig order

(BBnPOT - formerly known as GRSTART - are B&B put into a container - they are available now)


Dianthus Reference Catalog