BLACK CORAL ELEPHANT EAR


COLOCASIA ESC BLACK CORAL
Colocasia esculenta 'Black Coral'
photo courtesy of Proven Winners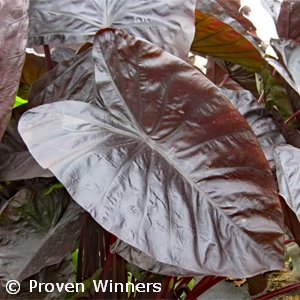 Genus: COLOCASIA


Protected Series:
Height: 4 Feet Tall
Spread: 3 Feet Wide


COLOCASIA ESC BLACK CORAL
Grower Notes:
The Colocasia esculenta 'Black Coral', also known as Black Coral Taro or Black Coral Elephant Ear, is a tropical tuberous perennial with long-stalked, heart-shaped, black leaves. The leaves of the Colocasia point downward unlike the upward-facing Alocasia. This is an outstanding specimen that prefers part sun and enjoys organically rich, moist soils. Eye-catching specimen for the summer deck!
AVAILABLE
SIZE
TYPE
GALENA
IN-GROUND
Any current Availability will be listed above this line. This item will not be in the cart if there is no above-ground stock listed here. Click for Availability Key-Info.
Search by current size and/or type

KEY:
con = containers - available now
Galena are available now
In-Ground are still in the ground and require a Dig Order. Please call your sales rep.

Product highlighted orange need to be dug. Call us to place a dig order

(BBnPOT - formerly known as GRSTART - are B&B put into a container - they are available now)