FIRST EDITIONS® SAPPHIRE SURF™ BLUEBEARD


CARYOPTERIS SAPPHIRE SURF
Caryopteris x clandonensis 'Blauer Splatz' First Editions® Sapphire Surf™
photo courtesy of Bailey Nursery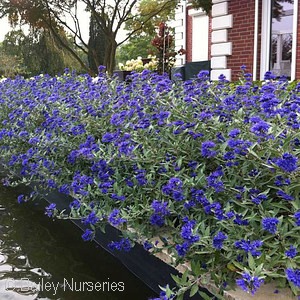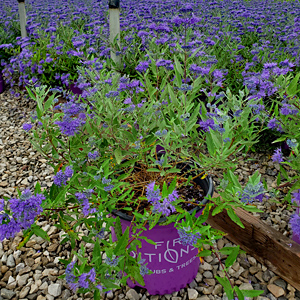 Genus: CARYOPTERIS


Protected Series: FIRST EDITIONS
Height: 2-3 Feet Tall
Spread: 3 Feet Wide


CARYOPTERIS SAPPHIRE SURF
Grower Notes:
Caryopteris x clandonensis 'Blauer Splatz' is commonly referred to Sapphire Surf™ Bluebeard or Sapphire Surf™ Caryopteris. It is a compact, deciduous shrub with a rounded habit that features deep blue flowers from late summer to fall that attract butterflies, bees and other beneficial pollinators. It contrasts well with its dark green, aromatic foliage. This easy to grow First Editions® introduction is deer resistant and drought tolerant once established.

Sapphire Surf™ Caryopteris enjoys full sun in evenly moist, well-drained soils. It does not tolerant standing water. It is ideal for borders, butterfly and rustic gardens.
AVAILABLE
SIZE
TYPE
YARD
HEELIN
FIELD
CARYOPTERIS SAPPHIRE SURF
con 2
10
0
0
CARYOPTERIS SAPPHIRE SURF

*SALE*
con 3
12-15 in
0
0
286
Any current Availability will be listed above this line. This item will not be in the cart if there is no above-ground stock listed here. Click for Availability Key-Info.
Search by current size and/or type

KEY:
CON = containers - available now
YARD trees/shrubs above-ground - available now
FIELD trees/shrubs NOT colored orange - available now

FIELD TREES AND FIELD SHRUBS that are colored ORANGE need to be dug unless it is a BBnPOT. Call us to place a dig order

(BBnPOT - formerly known as GRSTART - are B&B put into a container - they are available now)