FLUTTERBY PETITE® TUTTI FRUITTI PINK BUTTERFLY BUSH


BUDDLEIA TUTTI FRUITTI
Buddleia 'Podaras#13' PP22177
photo courtesy of Ball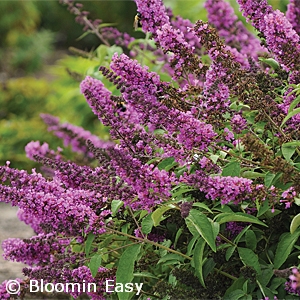 Genus: BUDDLEIA


Protected Series: FLUTTERBY
Height: 18-24 Inches Tall
Spread: 18-24 Inches Wide


BUDDLEIA TUTTI FRUITTI
Grower Notes:
Buddleia 'Podaras#13' PP22177 is commonly referred to as Tutti Fruitti Butterfly Bush. It is a member of the Flutterby Petite® series noteworthy for being the world's only complete series of sterile Buddleia. It features scented, silvery foliage and showy, fragrant pinkish-purple conical flowers that last through frost and attract butterflies and hummingbirds to the garden.

The Tutti Fruitti Butterfly Bush is heat and drought tolerant once it is established. It thrives in full sun in slightly acidic, well-drained soils.