FIRST EDITIONS® FUNKY FUCHSIA™ BUTTERFLY BUSH


BUDDLEIA DAV FUNKY FUCHSIA
Buddleia davidii 'PIIBD-11' PP26,278 First Editions&174 Funky Fuchsia™
photo courtesy of First Editions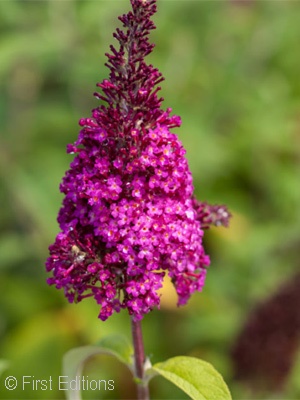 Genus: BUDDLEIA


Protected Series: FUNKY FUCHSIA
Height: 6-7 Feet Tall
Spread: 6 Feet Wide


BUDDLEIA DAV FUNKY FUCHSIA
Grower Notes:
Buddleia davidii 'PIIBD-11' is commonly referred to as Funky Fuchsia™ Butterfly Bush. It has a rounded, upright habit and features fragrant fuchsia conical flowers and dark green foliage which provides a nice contrast to its showy flowers. This Proven Winners® First Editions® selection blooms continuously into fall if deadheaded. Its flowers are enjoyed by hummingbirds and butterflies and bring in many pollinators.

The Funky Fuchsia™ Butterfly Bush is easy to grow and enjoys full sun in slightly acidic, well-drained soils. It is low maintenance and deer rabbit resistant. It can be drought tolerant once it is established.
AVAILABLE
SIZE
TYPE
YARD
HEELIN
FIELD
BUDDLEIA DAV FUNKY FUCHSIA
con 2
34
0
0
BUDDLEIA DAV FUNKY FUCHSIA
con 3
15-18 in
4
0
328
Any current Availability will be listed above this line. This item will not be in the cart if there is no above-ground stock listed here. Click for Availability Key-Info.
Search by current size and/or type

KEY:
CON = containers - available now
YARD trees/shrubs above-ground - available now
FIELD trees/shrubs NOT colored orange - available now

FIELD TREES AND FIELD SHRUBS that are colored ORANGE need to be dug unless it is a BBnPOT. Call us to place a dig order

(BBnPOT - formerly known as GRSTART - are B&B put into a container - they are available now)