FLUTTERBY PETITE® BLUE HEAVEN BUTTERFLY BUSH


BUDDLEIA BLUE HEAVEN
Buddleia 'Podaras#8' PP22069
photo copyright Acorn Farms Inc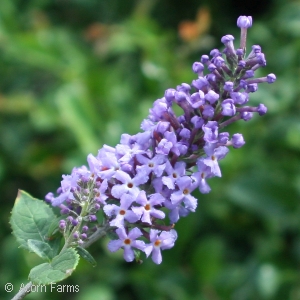 Genus: BUDDLEIA


Protected Series: FLUTTERBY
Height: 24-30 Inches Tall
Spread: 24-30 Inches Wide


BUDDLEIA BLUE HEAVEN
Grower Notes:
Buddleia 'Podaras#8' PP22069 is commonly referred to as Blue Heaven Butterfly Bush. This miniature is a member of the Flutterby Petite® series noteworthy for being the world's only complete series of sterile Buddleia. It features scented silver-grayish green foliage and panicles of violet-blue flowers. It blooms from summer to frost with a mounded, spreading form and is enjoyed by many pollinators. This non-invasive, deer and rabbit resistant plant is ideal for sunny beds, borders and mass plantings.

The Blue Heaven Butterfly Bush enjoys full sun in slightly acidic, well-drained soils. It will not tolerate standing water. It can be drought tolerant once established.
AVAILABLE
SIZE
TYPE
GALENA
IN-GROUND
BUDDLEIA BLUE HEAVEN
con 3
15-18 in
152
0
Any current Availability will be listed above this line. This item will not be in the cart if there is no above-ground stock listed here. Click for Availability Key-Info.
Search by current size and/or type

KEY:
con = containers - available now
Galena are available now
In-Ground are still in the ground and require a Dig Order. Please call your sales rep.

Product highlighted orange need to be dug. Call us to place a dig order

(BBnPOT - formerly known as GRSTART - are B&B put into a container - they are available now)