QUEEN OF HEARTS HEARTLEAF BUGLOSS


BRUNNERA MAC QUEEN OF HEARTS
Brunnera macrophylla 'Queen of Hearts' PP32737 CPBRAF
photo courtesy of Walters Gardens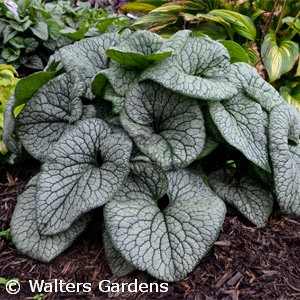 Genus: BRUNNERA


Protected Series:
Height: 15-18 Inches Tall
Spread: 24-36 Inches Wide


BRUNNERA MAC QUEEN OF HEARTS
Grower Notes:
Brunnera macrophylla 'Queen of Hearts' is commonly referred to as Queen of Hearts Heartleaf Bugloss. It features attractive silver, heart-shaped leaves with narrower bands of dark green veining. In spring, light blue, forget-me-not type flowers cluster above the foliage. It is comparable to Brunnera 'Jack of Diamonds'.

Brunneras thrive in the shade. They make attractive groundcovers and look fantastic in containers as well. They enjoy average, evenly moist, well-drained soil and are deer resistant and a pollinator attractant.
AVAILABLE
SIZE
TYPE
YARD
HEELIN
FIELD
Any current Availability will be listed above this line. This item will not be in the cart if there is no above-ground stock listed here. Click for Availability Key-Info.
Search by current size and/or type

KEY:
CON = containers - available now
YARD trees/shrubs above-ground - available now
FIELD trees/shrubs NOT colored orange - available now

FIELD TREES AND FIELD SHRUBS that are colored ORANGE need to be dug unless it is a BBnPOT. Call us to place a dig order

(BBnPOT - formerly known as GRSTART - are B&B put into a container - they are available now)