ROYAL BURGUNDY® BARBERRY


BERBERIS ROYAL BURGUNDY
Berberis thunbergii f atropurpurea 'Gentry' PP9461 Roy
photo courtesy of Horticopia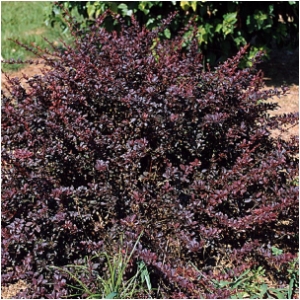 Genus: BERBERIS


Protected Series:
Height: 24-30 Inches Tall
Spread: 3 Feet Wide


BERBERIS ROYAL BURGUNDY
Grower Notes:
Berberis thunbergii Royal Burgundy® is commonly referred to as the Royal Burgundy® Japanese Barberry. It is a spiny, broad, deciduous shrub, smaller than the 'Crimson Pygmy', with fade resistant burgundy foliage. In fall, foliage turns a darker red. It features attractive scarlet drupes in early to late fall which attracts wildlife.

Royal Burgundy® Barberry is easy to grow and thrives in full to part sun in evenly moist, well-drained soils. It will not tolerate standing water and is considered drought tolerant once established. It is salt tolerant and adaptablable to city environments. It is ideal for foundations, borders and even looks great in containers.
AVAILABLE
SIZE
TYPE
YARD
HEELIN
FIELD
BERBERIS ROYAL BURGUNDY

*SALE*
con 3
15-18 in
72
0
2495
BERBERIS ROYAL BURGUNDY
con 5
18-24 in
12
0
0
Any current Availability will be listed above this line. This item will not be in the cart if there is no above-ground stock listed here. Click for Availability Key-Info.
Search by current size and/or type

KEY:
CON = containers - available now
YARD trees/shrubs above-ground - available now
FIELD trees/shrubs NOT colored orange - available now

FIELD TREES AND FIELD SHRUBS that are colored ORANGE need to be dug unless it is a BBnPOT. Call us to place a dig order

(BBnPOT - formerly known as GRSTART - are B&B put into a container - they are available now)