GIRARD PURPLE EVERGREEN AZALEA


AZALEA GIRARD PURPLE
Azalea x 'Girard's Purple' (Girard Hybrid)
photo copyright Acorn Farms Inc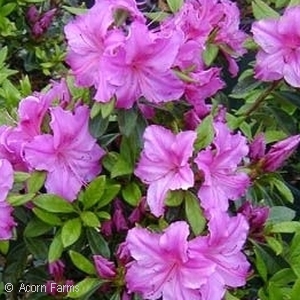 Genus: AZALEA


Protected Series:
Height: 3-4 Feet Tall
Spread: 3-4 Feet Wide


AZALEA GIRARD PURPLE
Grower Notes:
Azalea x 'Girard's Purple' is commonly referred to as Girard's Purple Azalea. It is part of the Girard collection of Azaleas which were developed for their cold hardiness and improved performance. It is a semi-evergreen, open multi-stemmed, shrub that features clusters purple flowers with scarlet spots against handsome glossy, dark green foliage that emerges light greenish-yellow in mid to late spring. It brings in all the pollinators including bees, butterflies and hummingbirds.

Girard's Purple Azalea is a low maintenance, versatile shrub that thrives in full to partial sun in rich, acidic, humusy, evenly moist, well-drained soils. It is ideal for accent and mass plantings.