THREAD-LEAF BLUESTAR FLOWER


AMSONIA HUBRICHTII
Amsonia hubrichtii'
photo courtesy of Walters Gardens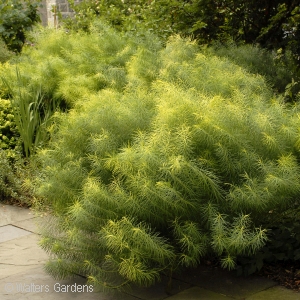 Genus: AMSONIA


Protected Series:
Height: 36-42 Inches Tall
Spread: 24-30 Inches Wide


AMSONIA HUBRICHTII
Grower Notes:
Amsonia hubrichtii' is commonly referred to as Hubricht's Blue Star, or Arkansas Blue Star. This native perennial has narrow, needle-like leaves that resemble bottle brushes, but are soft to the touch. Steel blue, star-shaped flowers appear in May and June. In fall, the foliage turns a showy rich gold color and looks perfect surrounded by sedums or fall blooming mums.

Hubricht's Blue Star is easy to grow and low maintenance. It thrives in full to partial sun in rich, moist, well-drained soils.
AVAILABLE
SIZE
TYPE
GALENA
IN-GROUND
Any current Availability will be listed above this line. This item will not be in the cart if there is no above-ground stock listed here. Click for Availability Key-Info.
Search by current size and/or type

KEY:
con = containers - available now
Galena are available now
In-Ground are still in the ground and require a Dig Order. Please call your sales rep.

Product highlighted orange need to be dug. Call us to place a dig order

(BBnPOT - formerly known as GRSTART - are B&B put into a container - they are available now)