Let the show begin with these spring beauties!
Great planted alongside tulips and daffodils.
Brunnera macrophylla
(Siberian Bugloss)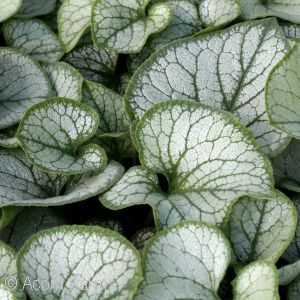 ---
AVAILABILITY:
BRUNNERA MAC JACK FROST - con 1 - Qty: 215

BRUNNERA MAC JACKS GOLD - con 1 - Qty: 11

BRUNNERA MAC STERLING SILVER - con 1 - Qty: 83

BRUNNERA MAC VARIEGATA - con 1 - Qty: 109

The dainty, forget-me-not type blue flowers appear in April, right after the foliage emerges. This shade-loving perennial comes in plain green, as well as several silver-leafed varieties and one with variegated foliage.
'Jack Frost' - green leaves with a silvery overlay
'Looking Glass' PP17829 - solid silver overlay
'Silver Heart' PP24685 - bright silver
'Variegata' green with white edges
Dicentra
(Bleeding Heart)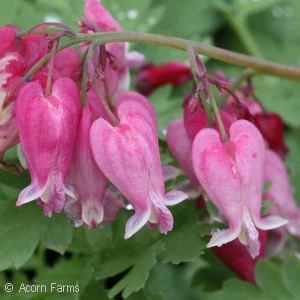 ---
AVAILABILITY:
DICENTRA EXIMIA LUXURIANT - con 1 - Qty: 11

DICENTRA SPE VALENTINE - con 2 - Qty: 16

DICENTRA SPECTABILIS - con 2 - Qty: 100

A classic for the shade garden. D. spectabilis is a large variety that has arching stems of heart-shaped pink blooms. D. spe. 'Gold Heart' has the same blooms, but with striking golden yellow foliage. The dwarf varieties have finely cut foliage, smaller flowers, and continue blooming into the summer:

'Luxuriant' - ferny foliage and small, light pink, heart-shaped flowers
'King of Hearts' - ferny foliage and small, dark pink blooms
Epimedium
(Barrenwort or Bishop's Hat)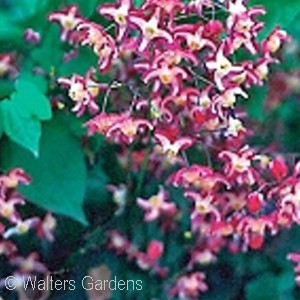 Dainty flowers on wiry stems appear in early spring. The blooms resemble tiny columbine flowers. Small, heart-shaped leaves unfold shortly after. Great for dry, shady areas.
'grandiflorum' - white blooms 8-10"
'rubrum' - bicolor red & white blooms - 6-12"
'sulphureum' - yellow and white blooms - 10-12"
'Orange Queen' - coppery orange, 8-10"
Helleborus
(Lenten Rose)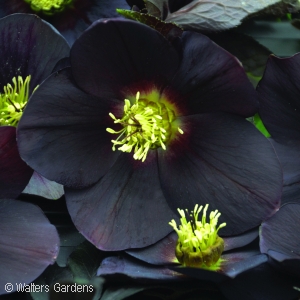 This shade lover is one of the earliest to bloom, often blooming February. Many varieties are available, with large single or double blooms. The evergreen foliage grows 18-24" tall.
'Cinnamon Snow' - single cream flowers with cinnamon overlay
'Ivory Prince' - single ivory-colored blooms
'New York Night' - single dark purple blooms
'Rome in Red' - single maroon blooms
'Sunshine Ruffles' - double yellow with red edges
'Winter Thrillers Mix' - single & double blooms all colors
Phlox divaricata 'Blue Moon'
(Woodland Phlox)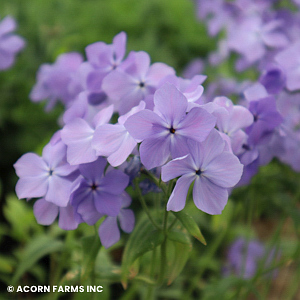 Fragrant, large blue flower clusters appear in April. Grows 12-14" tall with a spreading habit.
Phlox subulata
(Moss Phlox or Creeping Phlox)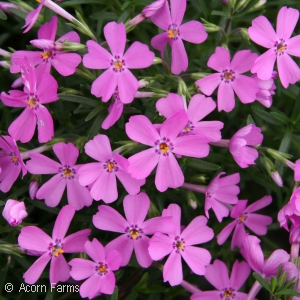 ---
AVAILABILITY:
PHLOX SUB AMAZING GRACE - con 1 - Qty: 9

PHLOX SUB CORAL EYE - con 1 - Qty: 168

PHLOX SUB EMERALD PINK - con 1 - Qty: 142

PHLOX SUB FORT HILL - QUART - Qty: 54

PHLOX SUB NORTH HILLS - con 1 - Qty: 13

PHLOX SUB RED WING - con 1 - Qty: 412

PHLOX SUB SNOWFLAKE - con 1 - Qty: 44

PHLOX SUB STRAWBERRIES AND CREAM - con 1 - Qty: 290

PHLOX SUB WHITE DELIGHT - con 1 - Qty: 98

The evergreen mat of needle-like foliage produces a carpet of color in early spring. Some varieties will rebloom in the fall.
'Emerald Blue' - lavender-blue flowers
'Emerald Pink' - bright pink flowers
'Purple Beauty' - lavender-purple flowers. may rebloom in Fall
'Red Wing' - carmine-red flowers
'Snowflake' - pure white flowers
Stylophorum diphyllum
(Wood Poppy or Celandine Poppy)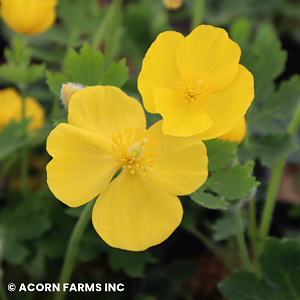 ---
AVAILABILITY:
Size: con 1 - Qty: 97

A native to woody areas, this perennial produces large, golden yellow, butter-cup shaped blooms in early spring. Prefers a moist soil, and naturalizes well. Perfect for shady rain gardens. Grows 24" tall.