FIRST EDITIONS® LEMON MERINGUE™ CINQUEFOIL


POTENTILLA FRU LEMON MERINGUE
Potentilla fruticosa 'Bailmeringue' First Editions® Lemon Meringue™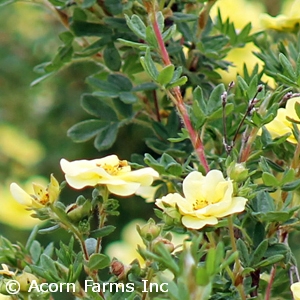 Genus: POTENTILLA


Protected Series: FIRST EDITIONS
Height: 2-3 Feet Tall
Spread: 2-3 Feet Wide


POTENTILLA FRU LEMON MERINGUE
Grower Notes:
Potentilla fruticosa 'Bailmeringue' is commonly referred to as Lemon Meringue™ Potentilla. It is a First Editions® selection that features light yellow double flowers with gold eyes throughout its growing season. It is a hardy, drought resistant, naturally compact shrub with a tidy, upright mounded habit. It has green ferny compound leaves that do not develop notable fall color.

Lemon Meringue™ Potentilla thrives in full sun in average, well-drained soils. It will not tolerate consistently wet soil. Lemon Meringue™ Potentilla is ideal for attracting pollinators to your yard!
AVAILABLE
SIZE
TYPE
YARD
HEELIN
FIELD
POTENTILLA FRU LEMON MERINGUE

*SALE*
con 3
12-15 in
37
0
465
Any current Availability will be listed above this line. This item will not be in the cart if there is no above-ground stock listed here. Click for Availability Key-Info.
Search by current size and/or type

KEY:
CON = containers - available now
YARD trees/shrubs above-ground - available now
FIELD trees/shrubs NOT colored orange - available now

FIELD TREES AND FIELD SHRUBS that are colored ORANGE need to be dug unless it is a BBnPOT. Call us to place a dig order

(BBnPOT - formerly known as GRSTART - are B&B put into a container - they are available now)