DRUMMONDS PINK CREEPING PHLOX


PHLOX SUB DRUMMONDS PINK
Phlox subulata 'Drummonds Pink'
photo courtesy of Walters Gardens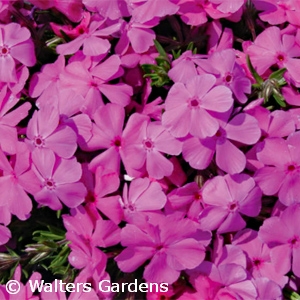 Genus: PHLOX


Protected Series:
Height: 3-6 Inches Tall
Spread: 24-30 Inches Wide


PHLOX SUB DRUMMONDS PINK
Grower Notes:
Replacement for Phlox 'Emerald Pink' that produces a mass of large, rich pink low-growing blooms in early spring.

Phlox subulata, commonly called creeping phlox or moss phlox, is a vigorous, spreading, easygoing, sun-loving phlox that is perfect for rock gardens and cascading over stone walls. It has a perennial nature and semi-evergreen habit. It thrives in rich, evenly-moist, well-drained soil. The more sun, the better for these colorful sun-seekers.
AVAILABLE
SIZE
TYPE
GALENA
IN-GROUND
PHLOX SUB DRUMMONDS PINK
#1
149
0
Any current Availability will be listed above this line. This item will not be in the cart if there is no above-ground stock listed here. Click for Availability Key-Info.
Search by current size and/or type

KEY:
con = containers - available now
Galena are available now
In-Ground are still in the ground and require a Dig Order. Please call your sales rep.

Product highlighted orange need to be dug. Call us to place a dig order

(BBnPOT - formerly known as GRSTART - are B&B put into a container - they are available now)


Phlox Reference Catalog