FIRST EDITIONS® VANILLA STRAWBERRY™ PANICLE HYDRANGEA


HYDRANGEA PAN VANILLA STRAWBRY
Hydrangea paniculata 'Renhy' PP20670 First Editions® Vanilla Strawberry™
photo copyright Acorn Farms Inc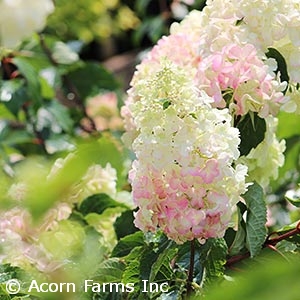 Genus: HYDRANGEA


Protected Series: FIRST EDITIONS
Height: 6-7 Feet Tall
Spread: 4-5 Feet Wide


HYDRANGEA PAN VANILLA STRAWBRY
Grower Notes:
Hydrangea paniculata 'Renhy' PP20670 is commonly referred to as Vanilla Strawberry™ Hydrangea. This First Editions® Hydrangea features showy panicle blooms on attractive red stems that emerge creamy white and morph to shades of deeper pink as they age (and as temperatures cool), before taking on a rich red and russet tone in fall. Since new flower heads continue to open through late summer, this selection can display all three color stages at any one time! Very showy floral display!

Vanilla Strawberry™ Hydrangea thrives in filtered light in rich, organic, slightly acidic, evenly moist, well-drained soils. Panicle Hydrangeas, such as the Vanilla Strawberry™ Hydrangea, bloom on new growth, typically flowering normally even if cut back or killed by frost the previous season.