FIRST EDITIONS® BERRY WHITE™ PANICLE HYDRANGEA


HYDRANGEA PAN BERRY WHITE
Hydrangea paniculata 'Renba' PP28509 First Editions® Berry White™
photo courtesy of Bailey Nursery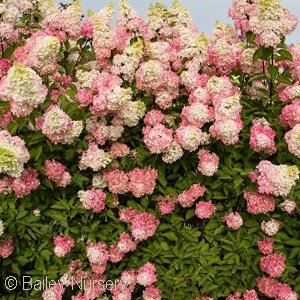 Genus: HYDRANGEA


Protected Series: FIRST EDITIONS
Height: 6-7 Feet Tall
Spread: 4-5 Feet Wide


HYDRANGEA PAN BERRY WHITE
Grower Notes:
Hydrangea paniculata 'Renba' PP28509 is commonly referred to as Berry White™ Panicle Hydrangea. Simply put: Berry White™ is stunning! This First Editions® selection features strong, upright stems that hold large, cone-shaped flower panicles that emerge white and mature to dark pink. Coloring occurs from the bottom, progressing to the top of the panicle which allows for a beautiful two-tone look. It blooms later than Strawberry Sundae® and at the same time as Vanilla Strawberry®.

Panicle Hydrangeas such as the Berry White® bloom on new growth, typically flowering normally even if cut back or killed by frost the previous season. It thrives in filtered sun in rich, organic, evenly moist, well-drained soils.