Today's Garden Phlox are not your grandmother's Phlox...
They are shorter, mildew resistant and bloom for a much longer time.
Most will readily rebloom if the dead flowers are removed.
Some of the newer cultivars include:
These dwarf phlox only grow 10-12" tall, yet still have the large flower heads. Blooms earlier than other garden phlox and will often rebloom. Mildew resistant. Watch for more colors to be developed in this series.
Bambini® 'Candy Crush' - pink and white, pinwheel look, 10-12" ht. (#4379)
This group of Phlox paniculata starts blooming two weeks before other garden phlox. They will often bloom again later in the summer. All Early Start® Phlox top out at about 16" in height. Colors available: light pink, pink, velvet purple and red.

'Early Start Light Pink' PPAF - light pink, 16" ht. (#4419)
'Early Start Pink' PPAF - vibrant pink, 16" ht. (#4174)
'Early Start Velvet PPAF - purple, 16" ht. (#4874)
'Early Start Red PPAF - bright red, 16" ht. (#5896)
---
AVAILABILITY:
PHLOX PAN PINK FLAME - con 1 - Qty: 46

These naturally compact plants have a dense habit, are disease-resistant, and have large, fragrant blooms.
'Blue Flame' PPAF - dark buds, pale blue flowers, 15-18" ht. (#4390)
'Coral Flame' PP22234 - vibrant, coral blooms, 15-18" ht. (#5728)
'Pink Flame' PP11804 - fuchsia pink with a darker eye, 15-18" ht. (#5702)
'Purple Flame' PP12605 - rich purple blooms, 15-18" ht. (#5505)
'Red Flame' PPAF - intense red flowers, 15-18" ht. (#5655)
'White Flame' PP16259 - pure white blooms, 15-18" ht. (#5720)
Phlox pan. 'Glamour Girl PP25778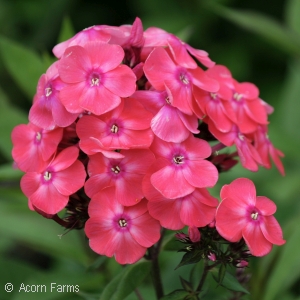 This taller variety has fragrant, hot coral blooms. Bright green foliage and dark stems contrast well with the pink blooms. 'Glamour Girl' is disease resistant and will rebloom several times over the summer and fall.
Glamour Girl PPAF - pink blooms with dark stems, 32" ht. (#5587)